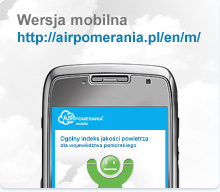 print page
It will be measured what is in the air
2010-09-27
MALBORK. At Mickiewicza Street the measuring station will be raised. The device will measure what the air which we breathe contains and whether there are harmful substances in it.
Everywhere, where the measures already work, it was shown that the norms, in which the substances influencing harmfully human health should be contained, are exceeded.They are in the dust, which gets into our organisms together with the dust. Not only to the lungs, because the tiniest dust can get also to our blood-vascular system. And in the dust there is cancerigenic benzopiren.
-We are dealing with this problem considering human health and the quality of life in the city - says Krystyna Szymańska, the manager of Foundation Agency of Regional Monitoring of Atmosphere in Gdansk Agglomeration "ARMAAG", which together with Voivodship Inspectorate of Environment Protection realises the "Airpomerania" project.
This enterprise is to contribute to the development of the network of air pollution monitoring and the building the regional system of its quality. The automatic measurment station will be built in the nearby of the sport building at Mickiewicza street. The localisation is not accidental.
The place must be the background of the city pollutions - explains Szymańska.
The device will serve the whole Malbork-Sztum region, and the results will show, wheter the repair plan will be needed, what will let improve the air quality to meet the required norms. The results will be accessible on the internet page. Besides the station will help to reach, e.g. information about the fact whether the condensation of the volcanic dust in the air is on the alarm level.
Powrót